Monthly Archives:
January 2014
It may be years and years before Calhoun and Gilmer get broadband and we think the reason is to keep the population dumbed down. When the TRUTH blogs came out the public officials thought that it was something they could have someone arrested for when the matter is protected by the 1st amendment and all they did was make fools of themselves trying to keep the truth from the public and their mission failed!
Concerned Citizens Free Press
WV ISSUES TO BE FEATURED ON CBS-DUTCH NEWS – TV Crew Visits Calhoun, Broadband Promises
(01/20/2014)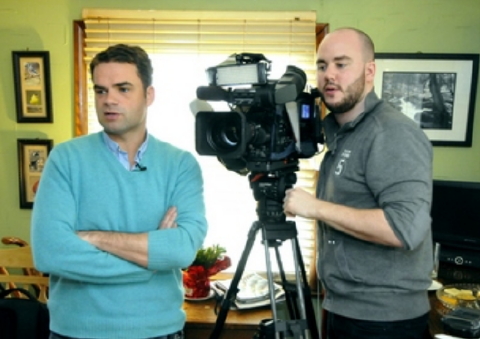 Erik Mouthaan (L) and Freek Herberts visit the Hur Herald office

Story and Photos by Drew Moody
Last week, three stories brought the North American bureau chief of RTL-TV news (The Netherlands) and his cameraman to West Virginia.
While state and national media focused on the toxic chemical spill in Charleston, Erik Mouthaan and his cameraman, Freek Herberts, traveled the back roads of the Mountain State for other reasons.
Based in New York City, the pair spent a day in Calhoun County putting together a story about the lack of high-speed Internet access.
In addition, they also focused on prescription drug addiction and the coal industry in the state.
"The fact that 1-in-7 people (in the U.S.) don't have access to the Internet is mind-boggling to me," Mouthaan said last week. He surmised…
View original post 475 more words
13 Points that Define CROOKED COUNTY … Is what this article is all about and it was originally drafted and published 2 years ago from last July 2nd, and was a collaboration of three members of the covert Secret Seven Coalition who have all had experiences of their own with local public officials and have seen and felt the corruption for themselves. It was one of our highest rated articles of 2013 and since the staff of Revenge of the Ghost Wolf has been answering e-mail and communicating with individuals who are trying to help us GET THOSE BAD GUYS … We decided that early in January 2014 was the perfect time to do a review one of our highest rated articles,and also combine it with current crimes by public officials of the infamous Gilmer County
Revenge of the Ghost Wolf
By Editor Edison CalPatty Press Editor/Free Bird RGW SS – Reporter/Rina McCoy-Cosmos Communicator Editor
GILMER COUNTY IS CROOKED!
That is why Gilmer County, West Virginia home of Glenville State College is known as CROOKED COUNTY!!
Bad Cops and corrupt public officials is what you will find in Gilmer County, WV and we can prove that six ways to fucking Sunday and have many times before.The Council of Concerned Citizens and the Secret Seven Coalition have been successful at filing complaints against a judge that stuck and subsequently ended the judges career and the judge realized he was through when he was suspended without pay for four years — And that was Judge "CHIP" Watkins. The judge was humiliated on FOX NEWS on national television in front of millions of AMERICANS in every city in America and around the world, before being destroyed completely by the Secret Seven of Central West…
View original post 3,190 more words